The three buildings of the hotel named after different species of irises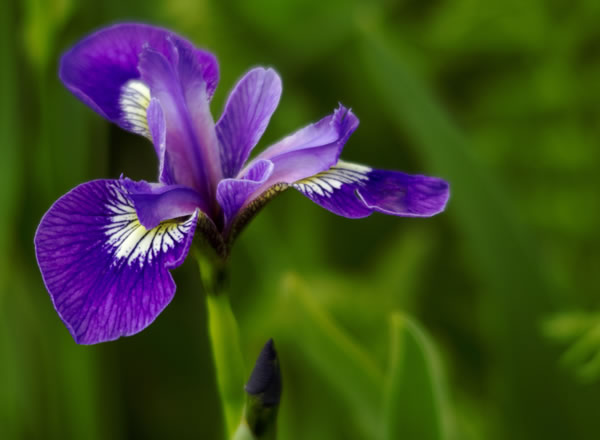 During the Edo period there was a cultural trend in which commoners would cultivate and admire irises. Many of the irises that were cultivated during this time still remain and the iris which was once the official flower of Sawara City continues to represent the area. Each building that is a part of the Sawara Merchant Town Hotel NIPPONIA has been named after a different species of an iris.
Check-in and check-out at the reception in the GEISHO building.

Dinner and breakfast will be served at the restaurant in the GEISHO building.

Relax in one of the guest rooms that are located throughout the town.
Equipment & Amenities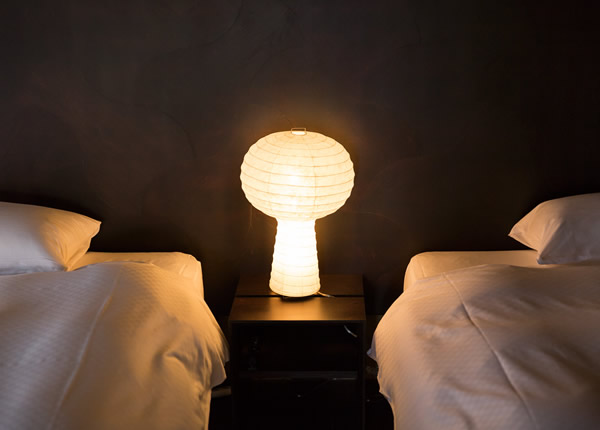 Simmons Mattress
All rooms have a Simmons mattress which are used in the best hotels throughout the world. Furthermore, for the bedding, pillowcases, and cover sets we use the best quality linen also used by the Imperial household in Japan.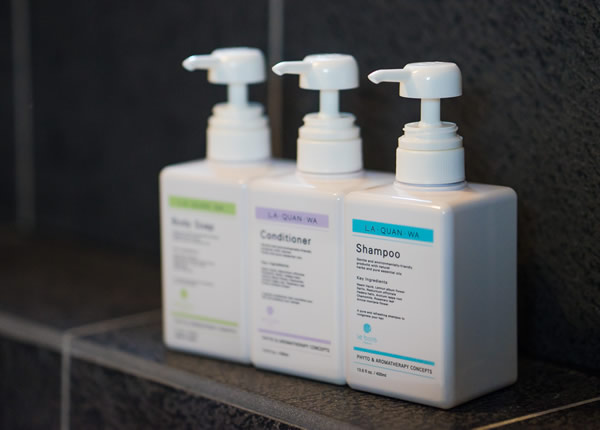 La Quan Wa Toiletries
At this hotel we provide "La Quan Wa" brand shampoo, conditioner, and body wash which was originally created for use in phytotherapy. The plant extracts from this high-quality brand will gently moisturize and protect your skin and hair.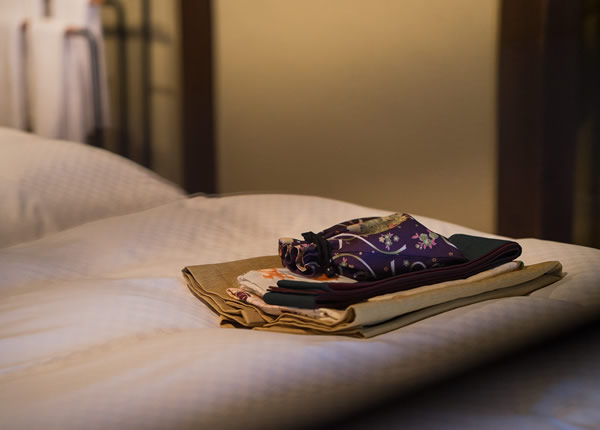 Colorful Yukatas
We provide yukatas for guests so that you can spend a relaxing time in comfortable clothes during your stay. You are more than welcome to wear these yukatas to your meals at the restaurant as well.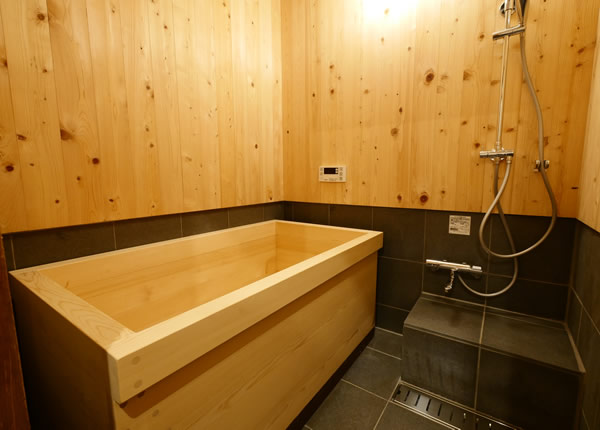 Hinoki (Japanese Cypress) Bathtub
Each of the hinoki (Japanese cypress) bathtubs have been made carefully by the craftsmen of Sawara. Please enjoy a bath while surrounded by the comforting aroma of the Japanese cypress.
Equipment
Simmons mattress Bathroom High-speed internet (Wi-Fi) Refrigerator Electric kettle Coffee maker Hair dryer Toilet with bidet Safe (Exceptions apply to certain rooms) Humidifier
Amenities
Towels Yukata Tabi socks Slippers Toothbrush Shampoo Conditioner Body towels Body wash Soap Cotton pads Cotton swabs Hair brush Shower cap Shaver
※We apologize for the inconvenience but we do not have any cosmetic products such as moisturizers or milky lotions. If you require them during your stay, we kindly ask that you bring them with you.
Information
A request for our guests in preserving the hotel's historic structures
The hotel facilities are made up of precious and important historical structures. Therefore, we kindly ask that you use our facilities with the care and respect that will allow us to preserve and pass on these structures and the nature and lifestyle that surround it to our future generation.
Terms & Conditions
Check-in/Check-out
Check-in

15:00~19:00


※Please contact us ahead of time if you plan to check-in past 19:00
Check-out

10:00
Meal Hours
Dinner

17:30~20:00
Breakfast

7:30 ~ 9:00
We will inquire about specific meal times during check-in
Parking
Hotel parking is available nearby
Children are welcome.
Please feel free to contact us directly for any questions regarding your stay with children.Additional fees for extra beds and meals for children are as listed below:
Plan Details

Price
Extra bed

Adult course meal

Same price as an adult
Extra bed

Half course meal

8,910 Yen
Extra bed

Children's one-plate meal

7,722 Yen
No extra bed

Half course meal

4,158 Yen
No extra bed

Children's one-plate meal

3,564 Yen
No extra bed

No extra meal

No extra fees
※All prices include tax
Payment Types
Accepted Payment TypesVISA / MASTER / JCB / AMEX / DINERS
Cancellation Policy
Cancellation fees will be charged when guests cancel due to their own circumstances
14 days prior 10% of the room rate
7 days prior 30% of the room rate
3 days prior 50% of the room rate
1 day prior 80% of the room rate
Check-in day 100% of the room rate